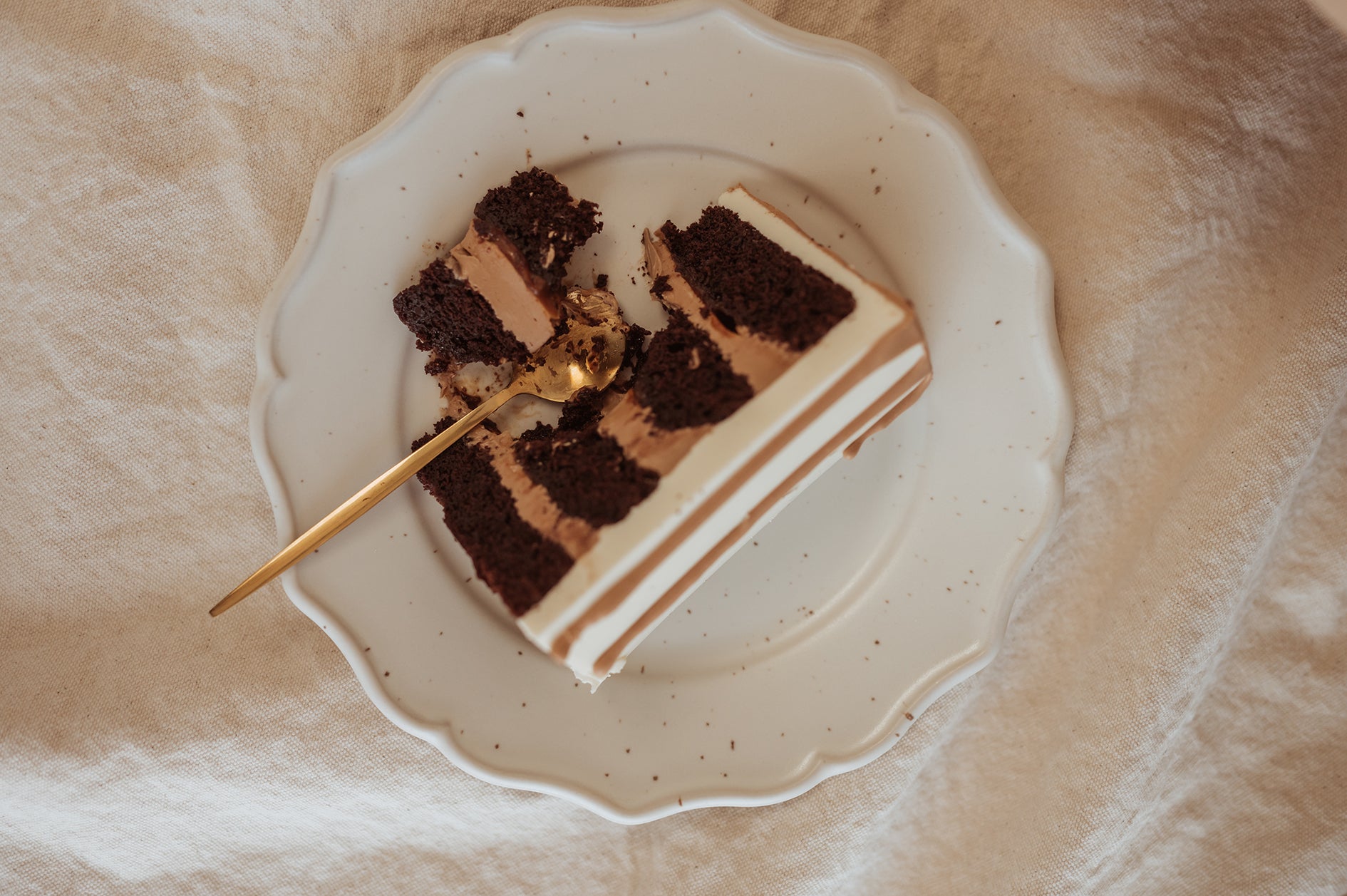 BELOW IS A LIST OF SIGNATURE CAKE FLAVOUR COMBINATIONS WE HAVE CREATED, HOWEVER OTHER FLAVOUR REQUESTS ARE ALWAYS WELCOMED!
Chocolate Fudge Snickers
Alternating Layers of fudgey chocolate cake and creamy peanut butter filling, layered with nut praline and chocolate ganache.
Lavender Lemon Blueberry
Moist Lavender butter cake full of juicy wild Alberta blueberries. Layered with tart house made lemon curd. Topped with lemon zest and fresh and dried blueberries.
Persian Love
Cardamom spiced white chocolate mud cake layered with rose scented cheesecake filling and toasted pistachios. Topped with pistachios and rose petals.
Salted Caramel Popcorn
Tried and truly delicious vanilla butter cake layered with house made sea salted caramel and vanilla bean meringue buttercream. Layered and topped with crunchy house made caramel popcorn.
Coconut Raspberry Passionfruit
Coconut butter cake layered with house made passion fruit curd, raspberry buttercream, and fresh crushed raspberries.
Carrot Pecan
Moist cake full of fresh grated carrots, crunchy pecans, and warm spices, layered with delicious cream cheese buttercream
Earl Grey Blackberry
Vanilla earl grey butter cake, layered with a blackberry buttercream and crushed blackberries
Strawberrry Champagne
Butter cake lightly scented with champagne. Filled with strawberry compote and strawberry buttercream.
Chocolate Salted Caramel
Moist espresso chocolate cake layered with house made salted caramel and velvety chocolate buttercream.
American Red Velvet
super moist red velvet cake flavoured with high quality red cocoa powder. Layered with vanilla bean cream cheese buttercream and vanilla Swiss buttercream.
Banana Nutella Pretzel
super moist banana cake layered with creamy Nutella buttercream and salty crunchy pretzel crumbs.
Black Forest
Classic dark chocolate cake topped with kirsch simple syrup. Layered with cherry buttercream, chocolate buttercream, and house made dark cherry compote.
Funfetti
Vanilla cake loaded with rainbow sprinkles layered with vanilla bean swiss buttercream.
Classic Vanilla Bean
Fluffy white vanilla cake layered with dense and delicious swiss buttercream scented with vanilla bean.
Would you like a custom flavour?
Please see below for our "build your own" menu.
Build-your-own Cake Flavour Menu
Cake
vanilla bean / coconut/ earl grey tea / funfetti / carrot / banana / pumpkin spice/ chocolate / red velvet
Swiss meringue buttercream
vanilla / chocolate / mocha / nutella / PB / strawberry / raspberry / passion fruit / lemon / caramel / cookies&cream / cream cheese
Cupcakes
CUPCAKES ARE AVAILABLE IN BOXES OF 24 MINIS OR 12 LARGE. CUPCAKES ARE AVAILABLE IN ANY OF OUR SIGNATURE FLAVOURS OR THE "A LA CARTE" FLAVOURS LISTED ABOVE. WE ALSO OFFER MONTHLY FLAVOUR SPECIALS IN SHOP.

Box Pricing:
Box of 2-dozen minis: $45.00 to $55.00 (choice of one flavour per box)
Box of 1-dozen large: $55.00 to $65.00 (choice of one flavour per box)
French Macarons
Flavours:
Vanilla Bean, white
Strawberries and Cream, light red
Passion Fruit, orange
Salted Caramel, tan and gold
Rose Cheesecake, light pink
Lemon, yellow
Matcha Honey, green
Cotton Candy, light blue
Blackberry Lime, purple
Hot Chocolate, brown
Seasonal flavours available.
Macarons are available in assorted boxes of 11 for $22.00. Or available individually for $2.00 ea.
Madeleines
MADELEINES ARE AVAILABLE TO PRE-ORDER IN BOXES OF 2-DOZEN. WE HAVE 2 FLAVOUR OPTIONS AVAILABLE FOR YOU.

Orange Blossom: Orange scented vanilla Madeleine, dipped in orange blossom syrup, sprinkled with edible flowers.
Strawberry Rhubarb: Vanilla bean madeleines dipped in strawberry rhubarb syrup topped with freeze dried strawberry crumble.
Boxes of 2-dozen for $39.00
Mini Cakes
Our signature mini cakes are available in-store-only with flavours rotating weekly. Give the shop a call to hear todays offerings.
Mini cakes are 3" wide with 4 layers of cake and 3 layers of filling.
Mini cakes can be preordered by email if looking to order 10 or more.
Mini cakes are priced at $15.00 ea.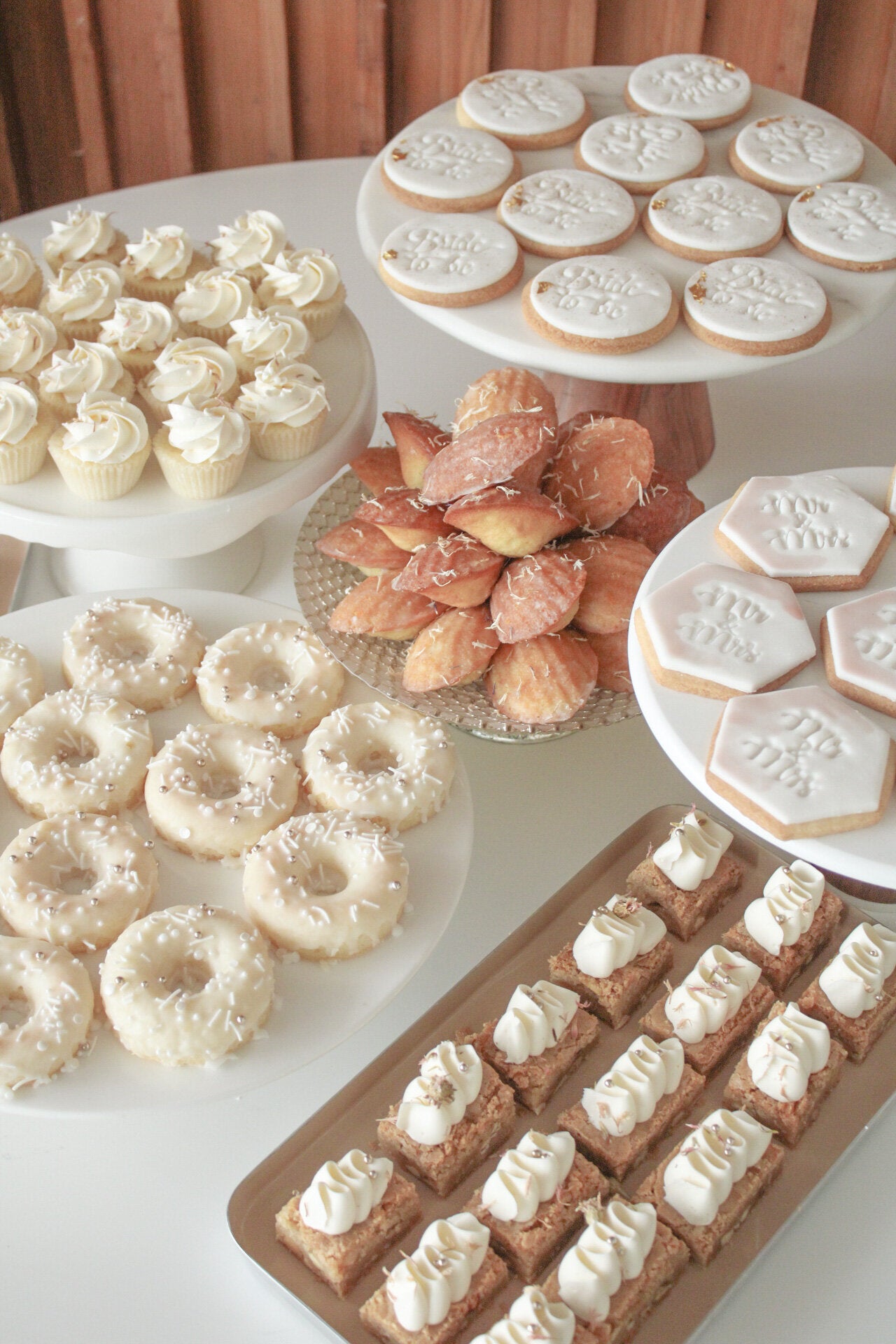 Dessert Bar Items
We offer a large range of dessert bar items which can be customized with different flavours and colour to suit your event best.
Mini cupcakes - $45.00 per 2-dozen
Mini blondies - $34.00 per 2-dozen 
Mini brownies- $34.00 per 2-dozen
Full size blondies- $34.00 per dozen
Full size brownies- $34.00 per dozen
Meringue kisses(customizable colour) - $1.00 ea, min. of 20
Custom Sugar cookies - $3.50 ea. comes individually packaged
Macarons - $24.00 per 1-dozen, 
Madeleines - $36.00 per 2-dozen
Cake Donuts- $30.00 per dozen
Pre-designed dessert bar packages for groups of 10, 20, 30 or 40, can be ordered online as well.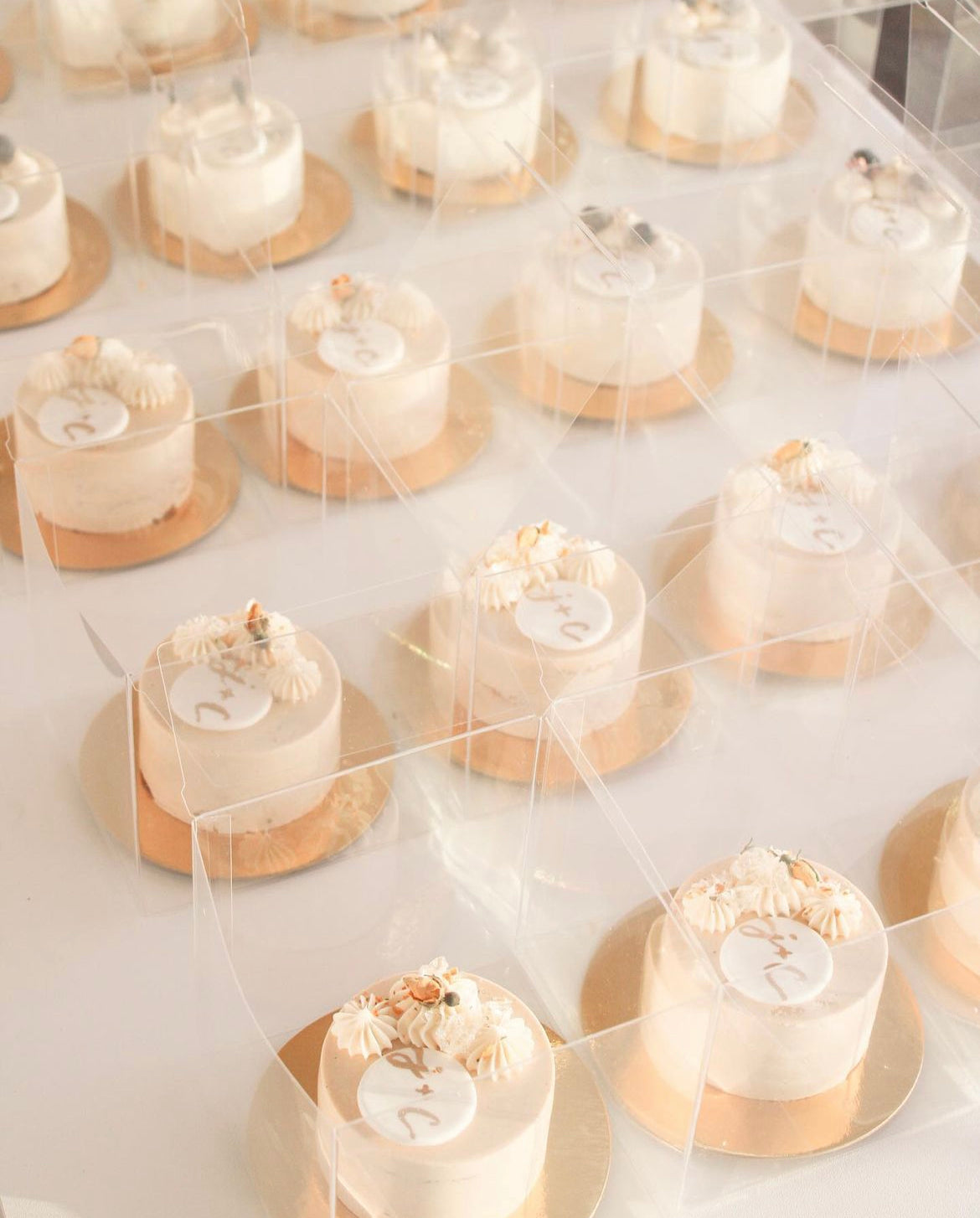 Party Favours
Favours can be customized to suit your wedding/event colours, and messages (such as wedding date or "Mr. &Mrs.") can be added to cookies, mini cakes, or cupcakes.
Favours in clear bag-
Bagged macaron, $2.10
Bagged 2 macarons,$4.10
Bagged macaron and mini meringue, $3.25
Bagged custom sugar cookie, $3.50
Bagged 2 madeleines, $3.25
Favours in clear box (boxes of varying sizes)- Minimum of 10
Boxed 2 macarons, $4.50
Boxed macaron and mini meringue, $3.75
Boxed mini cake (3" single layer cake), $11.00
Boxed large cupcake, $5.50
Boxed Cookie, macaron, mini cupcake, $8.50
Boxed Cookie, and 2 macarons, $8.50
Cake parfait jar, small (Odds & Ends)$7.00
Other dessert options such as brownies, sugar cookies, and mini cakes can be found here.