Congratulations! You're getting married!
Please see below the steps for starting your wedding dessert planning journey.
Step one
Cake tasting/consult
If your wedding date is within the next 6-12 months, now is a good time to reach out to us to determine our availability. The very first thing you'll want to do is fill out the order inquiry form link below. We'll then instruct you to book your consultation and let you know when our next tasting date will be. It is helpful if you already have your venue and caterer booked and have confirmed that an outside cake vendor is allowed. During our consult you'll have a chance to discuss serving suggestions, design options, and our recommendations for the best way we can serve you. Follow the link below to book your consultation. Just a reminder no wedding date is confirmed until a deposit has been made. We book up quite regularly for summer weekends. To ensure no disappointment please try to reply to our emails promptly and book your consult well in advance of 6 months of your wedding date. Without a prompt email reply on your part, we will assume you are no longer interested and move on to the next customers inquiry for your date.
Custom wedding order proposal minimum is $250.00. For orders smaller than this, please see our web shop for self ordering.
A 50% deposit will secure your wedding date on our calendar, with the remainder of your balance due one month prior to your event.
Wedding order delivery can be arranged for $1.00 per roundtrip km from our south Edmonton bakeshop. Delivery is booked base on availability and is only available between 2pm-5pm Friday and Saturdays. Sunday delivery is available on a case by case basis depending on the date.
Next tasting box pick-up date will be posted for sale on our web shop. There will be no tasting boxes from the months of June to September.
**** please always check your junk mail. All wedding correspondence will be done via email so that we have all of your requests in writing. If we do not hear back from you in email we will not continue to reach out, your order will be archived.
*** no wedding consults or bookings will be done in person. We have a very busy kitchen and if you show up at the shop unannounced we will likely not be able to help you with anything other than general questions about booking or purchasing retail goods.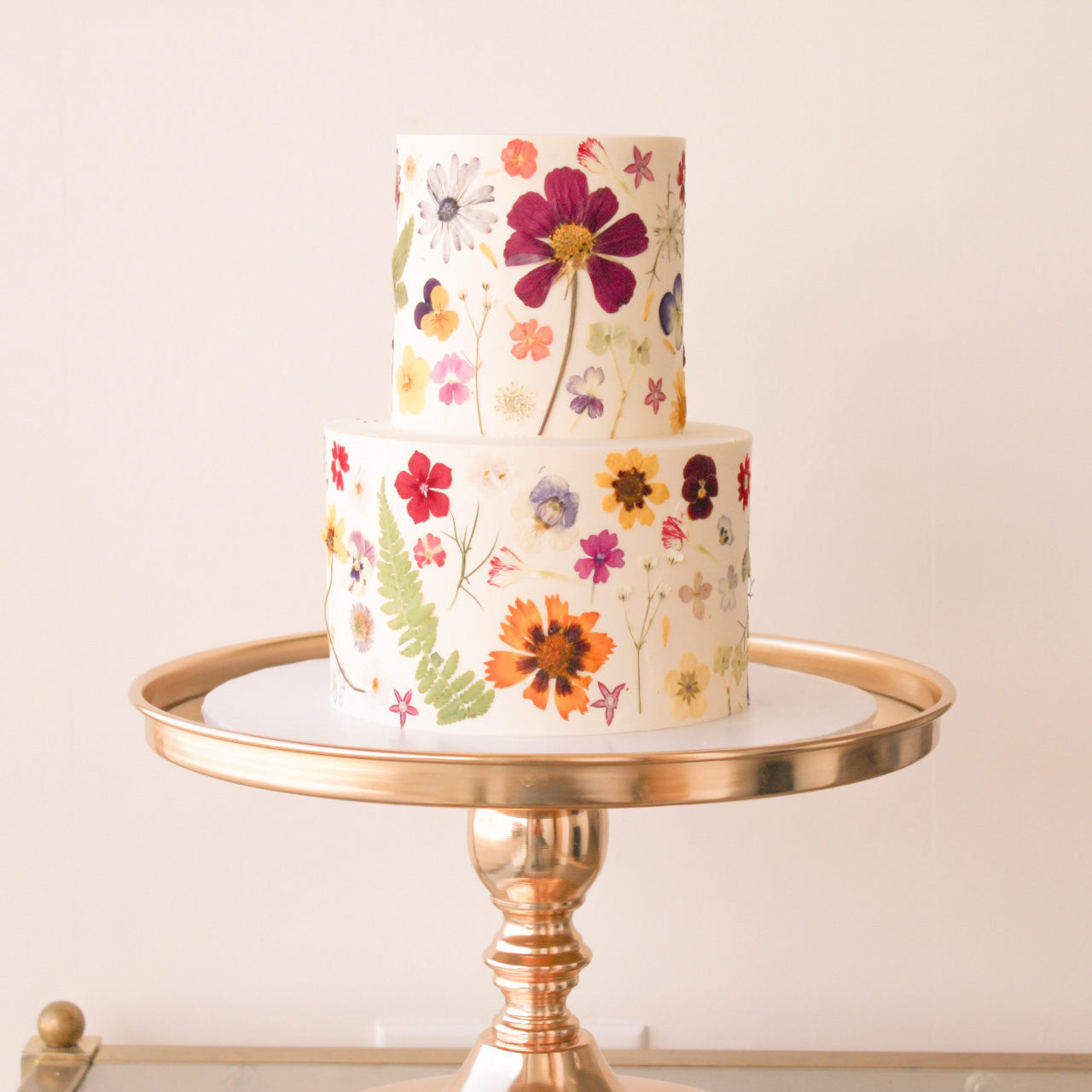 Step two
Inspiration
Gather which styles or designs you're attracted to. There's so many possibilities for us to curate something to suit your wedding aesthetic exactly. Are you thinking minimalist, lots of colour, all white, buttercream, rustic, fresh flowers, metallics, fondant, tiered, single tier with cupcakes, dessert table? There's lots of options out there, and it's OK if you're unsure! We can always discuss in person what you're hoping to achieve and go from there! If you're totally overwhelmed, just give us access to your pinterest dream board and we can come up with something extra special for you.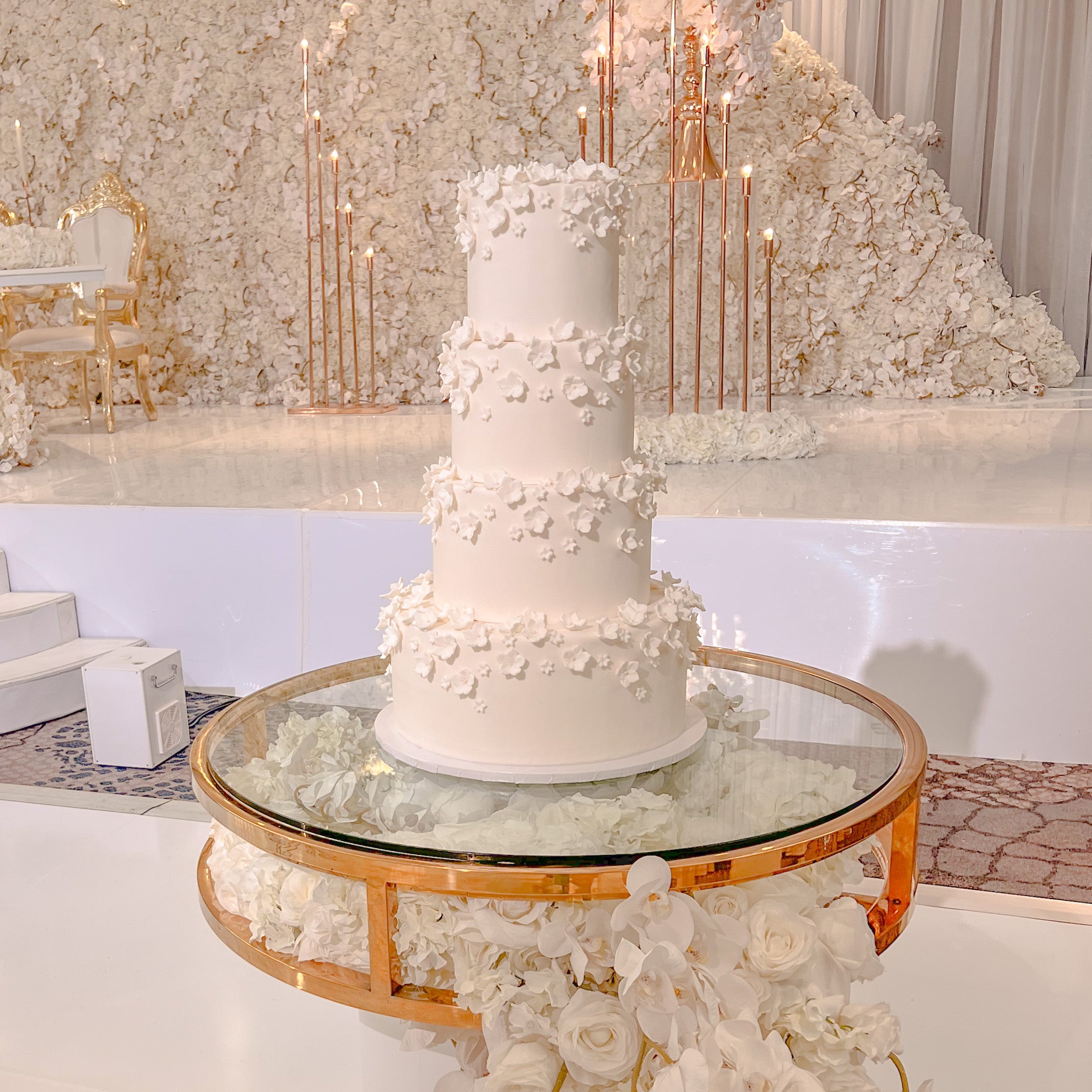 Pricing and Delivery Information
Wedding cake pricing varies depending on final design. Semi-naked cakes starting at $7 per serving, buttercream cakes starting at $8-$10 per serving, and fondant cakes starting at $11 per serving. As well cupcakes being offered at $2 per mini, and $4.50 per large. Wedding delivery is quoted at $1 per round trip KM.
Aside from cake, our macarons and custom painted sugar cookies make great wedding favours.